---
Like A Breeze Through The Trees You Can Watch Me Blow . . . . . . . . . . . . . . . . . . . . . . .Friday, May 18, 2001 --  tigole

---
Congrats Metopious!
The First Ring 10 on The Nameless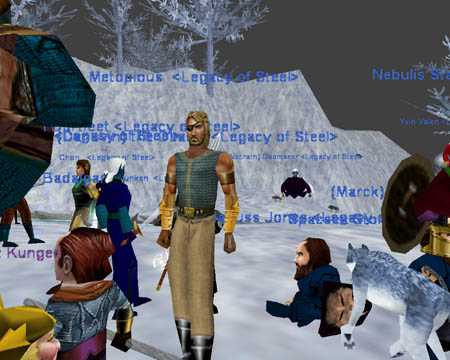 Kind of funny, just last night we were beating the stuffing outta that Gimp Dorf known as Dain Frostreaver yet today we're winning wars for the little bastard.  That's right, we did the Ring 10 war with 90% of the guild KoS.  It was insane.  Tons of fun.  Mostly Chaos.  This quest is simply one of the *BEST* encounters out there.  You have to see it to know what I'm talking about.

So in addition to the 10th ring which Metopious now wears, we picked up some other loot as well.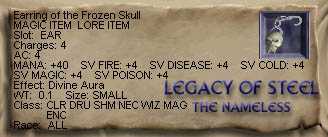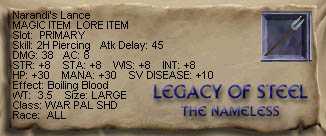 Well, I have been slacking on the page since Monday.  We've killed a bunch of stuff.  Zland, Kland, CT, Dain. . . the usual.  Truth is I was insanely busy this week trying to tie up all the loose ends before I leave.  I'll be out of town for two weeks.  So unless one of the people who has access to this page updates it, you're stuck looking at this same shit day in and day out until I get back.  Hopefully for your sake and mine, they'll update the news with all the ass they are going to kick while I am gone.
Anyway, have a fun two weeks folks -- I am outta here!
Stalkers, Wanna-be's and Unoriginal Bastards








Quotes of the Day