---
420 . . . . . . . . . . . . . . . . . . . . . . .Saturday, April 20, 2002 --  tigole

---
We Did It Like This, We Did It Like That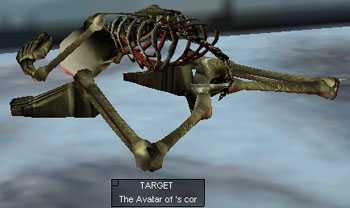 Ah, that's why we all hate necros. . .
The Good Ol' AoW. . .current farm mob, although thank god, he's actually a fun fight.  Farming Vulak was as boring as can be but at least if you're gonna farm something, let it be a fun fight.  My favorite part of the AoW fight is when he enrages.  All you warriors on other servers try this (note: if LoS warriors do this you'll get a swift kick to the nuts) stop attacking and turn the AoW on enrage!!  With any luck you'll kill all of your monks, rangers and rogues within 2 seconds.  It's quite funny although it ruins any hope of a flawless victory.  And no, LoS hasn't had a flawless AoW kill yet.  Our best kill to date cost us 2 deaths.
Patch day was pretty fun for us.  We basically killed everything that was spawned and then went looking for more.  We've been camping the hell out of our coveted bane weapons and have had pure-shit luck.  Man, it reminds me of all the time and effort it took for us to get our HP/Creator and AL keys.  I'd say we killed 30-40 commanders before getting those keys.  But of course some random jackass can get the key on the first try.  I guess it's the same way with all of SoL:  Get lucky on key camps, get lucky on *stumbling upon recipes*, get lucky on rare components, get lucky on combines.  It's absolutely no fun.  And now we're at the point where people are farming Seru, so you can forget about any hope of a change to the process required for weapons.  They'll cry foul if the weapon quest is adjusted or retuned (and I guess rightfully so).  It's a big mess.  I really can't believe the key and weapon bullshit we as players are putting up with in SoL.  Yet like lemmings to the cliff we persist. . .
So rather than sit in a boring, long, poor experience camp with the hope of getting one single rare quest component which would go for one single combine which might fail, we decided to head to VP so we could actually kill something somewhat fun and do what we like to do as a guild -- RAID NOT CAMP.  So here is this week's money shot: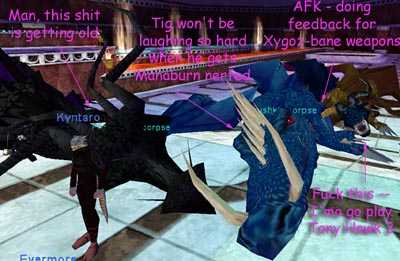 I guess the next goal is to get 5 or 6 dragons in that picture.  Yeah, almost all of the loot rots when we do VP (and no you can't have any so don't ask).  But the game is beyond loot now.  And let's face it, loot is so incredibly fucked up in Luclin you can't play for loot anymore.  That Seru BP that Afterlife got is the best exanple that there is no hope for loot anymore.  I am beginning to think that loot is just made and placed in the game by some random number generator.  And does it really matter?  Anyone melee that plays at the high level of the game only cares about one stat.  It's funny and sad that you can play the game for 3 years, earn 60 levels, earn countless AA points and yet only one of the little numbers under the statistics tab has any relevance to the actual game.  We're supposed to get excited because a BP has 75 AC?? Wonder if it would be so incredibly taxing for the dude who capped AC to walk over to the dude who makes loot and say, "Hey jackass, I capped AC -- try again on that Seru loot because right now 75 AC means jack and shit, chippy."  Oh well, I could sit and bitch more but I think I'll go spend 8 hours camping a rare component so I can discover new encounters to beta best. . .err I mean bitch about. . .oops I meant have fun enjoying!!! Fun?  What is this "fun" you speak of. . .
Dada's Art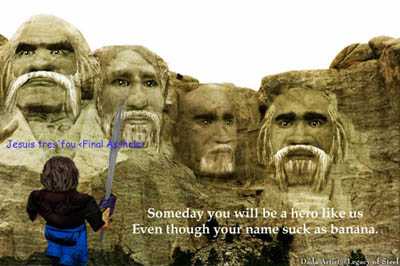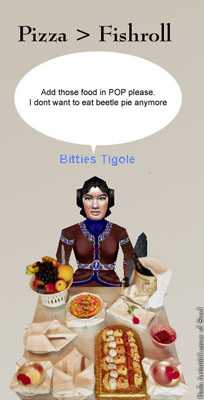 Evil Empire Inc.
Dedicated to making The Nameless a more miserable place for everyone. . .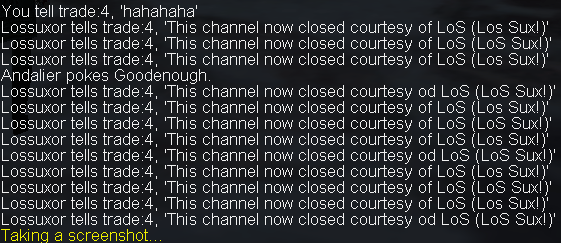 Stalkers, Wanna-be's and Unoriginal Bastards













In case you ever wonder why I miss tells. . .

Quotes of the Day




Oh, one last thing, I want to thank everyone for all the kind words over the past few days.  And if you sent me an email, please be patient -- I'm trying to sift through them all.  There are only so many hours in a day. . . .