---
And Leon's Getting Laaaaaarger . . . . . . . . . . . . . . . . . . . . . . .Monday, March 26, 2001 --  tigole

---
Today we have the non-update.  No big corpses for you to look at today.  That doesn't mean we haven't been busy.  Spending more time in the Temple of Veeshan.  Went through the Halls of Testicles a couple times tonight.  First time we have seen the named drakes up in a week.  Killed all those poosae mo fakas again.  But those quest items leave us wondering, is this just Plane of Sky bank crap, Part II?  We really hope not.  With the upcoming multi-quest nerf, our Halls of Testing quest items could become the major, unlubed shaft of century.  Hoping to make that suck-ass, Dozekar, bite the dust soon.  I was really hoping we could try him tonight.  Unfortunately, as it always works, by the time we were ready to go we had 26 in the zone, 4 of which were going LD on every pull.  We have a couple of strats up our sleeves for ol' Dozekar.  Can't wait to see what actually works.  Of course, it's profoundly disappointing that he does not deathtouch because we'd love to send Desp in for that. . .
So while we did not get many drops tonight, we did get good drops.  Two pairs of chain legs and a pair of plate legs.  Brionca was able to complete the Shadow Greaves quest.  Check 'em out: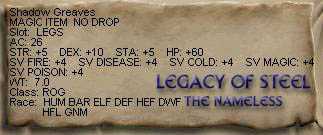 In other news, I am most proud to welcome our newest member Rhap Shindigger.  Hopefully Rhap wont get so drunk that he forgets to loot his corpse before pulling.  That was the first sign of his l33t skills I ever witnessed, way-back-when in South Karana.  I remember the cleric saying to me, "This was a perfectly good group until you two hobbits showed up."
That's it for the quick non-update.  More to come soon.  Because I feel bad for not including the usual stalkers, freaks and quotes. . .I figured I'd give you all this linkto an oldie yet goodie.