---
Quick Update . . . . . . . . . . . . . . . . . . . . . . .Wednesday, May 9, 2001 --  tigole

---
Just wanted to post the updated quest reward for turning the Griffon Sword back into Yelinak: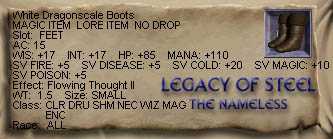 Please continue to whine about no good caster loots and no good reason to be on Dragon Faction.  Thanks.
I'll be gone tonight -- supposed to go to a party to watch Game 7 of the Kings vs. Colorado series so no update for j00 tomorrow.
Lastly, for all you fuckers complaining about my mispelling of "The Nameless" yesterday, please go fist yourself.  I am sick and not in the mood. . .