---
A Call To Arms . . . . . . . . . . . . . . . . . . . . . . .Tuesday, September 11, 2001 --  tigole

---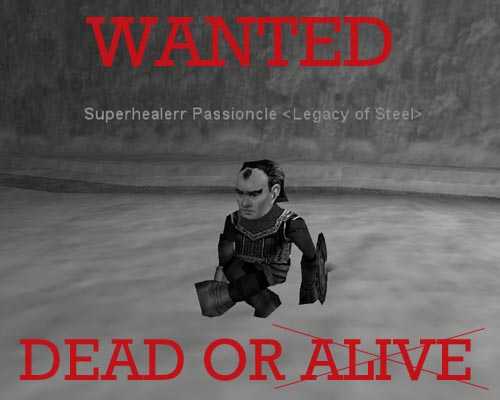 Name: Superhealerr Passioncle
Race: Halfling
Occupation: Cleric and all-around annoying little fugger
Reward for capture: 5000pp (see below for details).
Be on the look out for a balding, mis-matched, loud-mouthed halfling cleric on The Nameless.  Last seen in Thurgadin, Superhealerr is wanted for a number of crimes.  His first offense is being a loot whore.  Please refer to Exhibit A:

Secondly, there are reports that this foul criminal moonlights as a level 60 Bard on The Nameless.  In a highly dangerous undercover op, I was able to pose as a druid and draw out Mr. Passioncle's true identity.  When Mr. Passioncle requested information of a place to solo in the mid 30's, I suggested the Bard in SK to test where this dangerous criminal's true sympathies lie: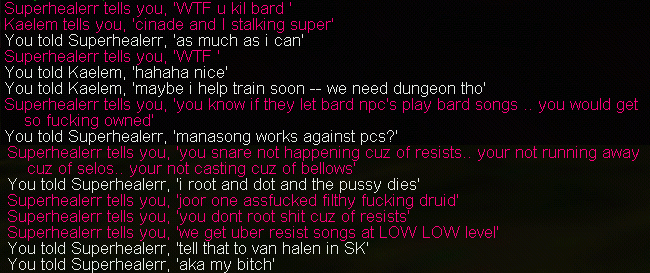 As you can see, the two counts against Superhealerr are reason enough for drastic measures to be taken.  Loot Whoring and Bard Sympathizing simply cannot be tolerated.
Your Mission Should You Choose to Accept. . .and The Reward:
Superhealerr Passioncle must be brought to justice.  I will put up the bounty of 5000 platinum to whomever posts the BEST screenshot of a Superhealerr Passioncle assassination by train.  Your screenshot must feature the corpse of Superhealerr as well as a general idea of the number of mobs used to train.  You have one week to complete this mission.  Good luck.
Mort and Gage, Uber Bankers




Stalkers, Wanna-be's and Unoriginal Bastards





WTF, even my dog gets stalkers now. . .












Quotes of the Day


And lastly from the lead GM of The Nameless. . .