---
Mamma Said Knock You Out . . . . . . . . . . . . . . . . . . . . . . .Tuesday, November 20, 2001 --  tigole

---


As you can see the Test of the Tactics III took place tonight.  Legacy of Steel matched up against Crimson Tempest for The Nameless title.  We emerged victorious, 18-0.  I must say, I was kinda hoping for Fat Hin to get waxed, but the flawless victory is the next best thing.  Thanks to Ariel for putting together a great team and taking us to Test.
My hat goes off to Crimson Tempest.  They're a great group of asskickers.  As for the rest of you *UBER* guilds on The Nameless, the term for what you all pulled today is called "Gang of Poosae" in the House of LoS.
We also did the Ring War for Bzul today.  I must say, Bzul had a natural knack for owning with the Dorfs.  We kept 5 heroes alive in what was our smoothest Ring War to date.  Many congrats to Bzul on the ownage ring from that cacksugging dorf, the Dain.  Many thanks to those who helped in GD too.
Oh, here was the best part of the ToT by the way: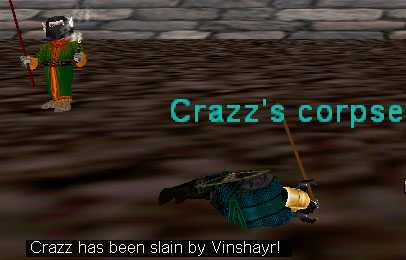 Quote of the Day
My guild is going to kill me for releasing our top secret strategy: