---
Well, It Ain't Just The Smoke And The Traffic Jam That Makes Me The Bitter Fool I Am . . . . . . . . . . . . . . . . . . . . . . .Monday, October 7, 2002 --  tork

---
Rigoddamndiculous, Part ][
Hot dammit, I thought we were past this shit with VI "sending a message" to the uber guilds (whatever that was supposed to mean), but it seems like we're being watched all the time - maybe because we are. Today a member got a warning for exploiting a corpse in VT he'd made for a death run, but yet I am at a loss for words when the GM had the balls to issue the warning while standing next to this, corpses from another guild clearly set up for exactly the same sort of thing with which we're continually given grief,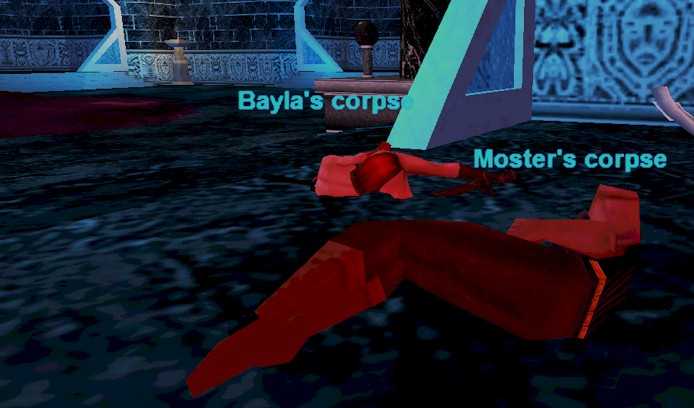 LoS is being harassed - with the player warnings, suspensions and ever present and, of course, nebulous threats of guild warnings or worse, it's getting old. Not only are we in a constant cat and mouse game to keep legit CoH spots with in a rule set that no guide, GM or CSR Admin will explain, but GM's have gone so far as to not only move xp (unres'd) corpses, but delete them with no mention to the guild - imagine how happy we were to have another member's unlooted, fully equipped corpse purged - again, with no mention until after the fact. I credit Kahil for going to bat for us to get the corpse restored, but purely based on circumstances, it seems even dying while naked is a bannable offense. I don't want to start calling in the black helicopters, but the timing has also become... coincidental to be polite, with corpses mysteriously vanishing as we set up a CoH that which would put us into competition for spawns, yet... well, see above - events take place such that they have the maximum detrimental effect to the guild and, ultimately, guild morale as things wax petty.
If this is how it's going to be, then I want to see a statement from VI so we can rest assured policy is going to be applied across the board and it's not some rogue GM(s) with an axe to grind - because every time I see crap like corpses from another guild, both bugged and legit, scattered throughout VT with seeming impunity while we're getting jerked around, I can't help but get pissed off at this petty shit.
Love,
-Tork
Stalkers, Wanna-be's and Unoriginal Bastards


Quotes of the Day