---
Walking Into Spiderwebs . . . . . . . . . . . . . . . . . . . . . . .Thursday, November 28, 2002 --  tork

---
Happy Thanksgiving!

Bertox Down!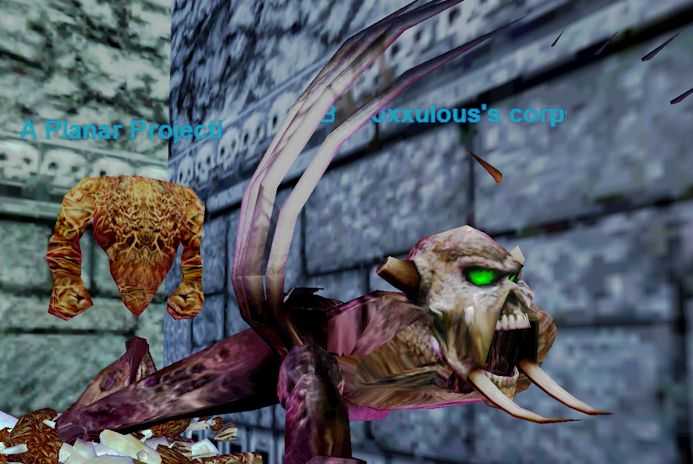 What a great way to kick off the long Thanksgiving Holiday weekend by downing that cack with ~50 - we all have a lot to be thankful for, and what comes to mind with respect to LoS is we have returned to our traditional A game (which was MIA for a while there, I'll admit). It's no secret we hated the SoL Emp-style raids which took 60-70+ people; you get to a point, as a guild, where you lose your focus and, individually, you stop knowing everyone in your guild. LoS has never been a family style guild, but when you spend so much time together, there's a reasonably familiarity and trust with one another - and being forced to expand so quickly... it wasn't always fun.
Anyhow, of the PoP encounters, this was definitely one of the best, especially with the rabid pace we were setting offing the minibosses, and I was a bit surprised when the four kings spawned - no question we were primed on this Holiday eve and without the traditional GoP. We'd had one honest try at Bertox prior, getting him to 54% but eventually falling victim to the chaos of pull, but on this second real attempt, I was very proud to see the Evil Empire score another one for Team North America in defiant T-Day fashion.
The one thing that did suck, however; people got jablowned out of legitimatly earned flags,
I mean, yah, of course we'll kill Bertox again and it'll all be mote, but like Whineboss above said, it totally sucks that missing one Hail on some two bit Erud cacksugger can hold you up when you've been at the very center of the hardcore team that cracked the encounter - while others can just layback and read the HOWTOs on the Safehouse. I can understand wanting a natural progression of events, killing this boss or that, to keep the story line roughly in tact, but it's homogay bullshit when you do the major events in sequence, without any intent to skip over content or exploit the game, you can lose out so easily on a flag which is only tangentially involved. So much for risk and reward, even when you win, you can still lose.
Oh well - time for me to go get some Turkey, I suggest you all do likewise.
Happy Thanksgiving from LoS.
Stalkers, Wanna-be's and Unoriginal Bastards


















Quotes of the Day